Description
Persian saffron is by far the most desired form of Saffron today. In fact, not only was the earliest evidence of Saffron cultivation found in Ancient Persia, but this region of the world accounts for over 90% of the worlds total saffron supply.
Many third party distributors claim that they have the "highest quality saffron in the world" but this is almost always a false advertisement. Luckily for consumers, the quality and potency of Saffron is actually measurable.
This Persian saffron is regarded as the best the world has to offer and is made up of the red stigmas (filaments) which have been cut and separated from the style prior to drying. So there is no moisture trapped inside to add dead weight and affect the shelf life or its aroma.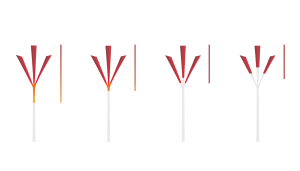 Classifications of Persian Saffron:
Sargol: "Top of the flower" in Farsi. Sargol is a sub-type of Persian saffron that derives from the very tip of the saffron thread. Hence, its name "top of flower."  It also has a specific, powerful aroma. Generally speaking, Sargol saffron is considered to be high quality due to its lack of Yellow or Orange threads. Sargol can be easily recognized thanks to its full and deep red color and short threads. On the downside, Sargol saffron often contains crumbs and broken threads.
Super Negin: The most expensive and rare trim of Saffron. Super Negin saffron is known not only for being the most potent but also for its aesthetically pleasing features. Super Negin threads are longer in length and contain no yellow or orange threads. The threads are cut symmetrically and contain no crumbs. When comparing all the trims of Saffron, Super Negin is the most sought after for those who want the best of the best. 
Negin: When compared to Sargol and Super Negin, Negin is longer in length and contains some yellow and orange portions of the thread. To put it in simple words, the aroma, quality, and purity are still great but you do pay for some portions of the yellow and orange threads, which are lower quality.
Pushal saffron is the cheapest and most commonly sold Saffron trim in stores. Since Saffron is so expensive, many distributors take advantage of consumers by selling them the orange and yellow portions of the thread to increase their profit margins. Since these yellow parts of the stigma contain no value, consumers end up paying much more in reality for a inferior product.
Directions to preserve your saffron properly:
Store in a dark, cool & dry place
Never store in the fridge to avoid moisture
Never expose it to direct sunlight
Keep it in an airtight container to avoid moisture